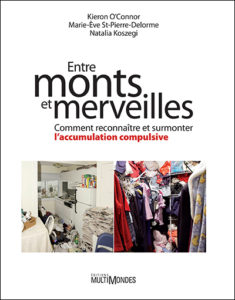 This book is of interest to persons seeking help because they suffer from hoarding disorder as well as to therapists interested in providing help to hoarders. It is the first book published in French on this subject.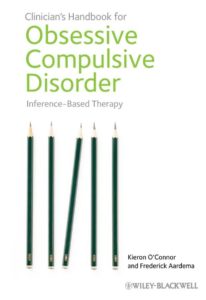 This book is the first to bring together new research to offer a hands-on clinical guide to treating people with all types of obsessive compulsive disorder (OCD) using an inference-based therapy (IBT).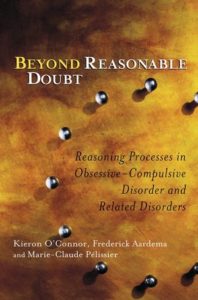 This book describes the ways in which reasoning can be applied to OCD for effective treatment regimes. It moves comprehensively through theoretical, experimental, clinical and treatment aspects of reasoning research, and contains a detailed treatment manual of great value to practitioners, including assessment and treatment protocols and case studies.
Aardema, F., Ecker, W., & O`Connor, K. (2015). Deutsche ubersetzung des Inferential Confusion Questionnaire-Expanded Version [German translation of the Inferential Confusion Questionnaire- Expanded Version]. Verhaltenstherapie [Behavior Therapy], 25, 233-234. View
Aardema, F., Emmelkamp, P. M., & O'Connor, K. P. (2005). Inferential confusion, cognitive change and treatment outcome in obsessive-compulsive disorder. Clinical Psychology & Psychotherapy, 12, 338-345. View
Aardema, F., Moulding, R., Radomsky, A. S., Doron, G., Allamby, J., & Souki, E. (2013). Fear of self and obsessionality: Development and validation of the Fear of Self Questionnaire. Journal of Obsessive-Compulsive and Related Disorders, 2, 306-315. View
Aardema, F., & O'Connor, K. (2003). Seeing white bears that are not there: Inference processes in obsessions. Journal of Cognitive Psychotherapy, 17, 23-37. View
Aardema, F., & O'Connor, K. (2007). The menace within: Obsessions and the self. Journal of Cognitive Psychotherapy, 21, 182-197. View
Aardema, F., & O'Connor, K. (2012). Dissolving the tenacity of obsessional doubt: implications for treatment outcome. Journal of Behavior Therapy & Experimental Psychiatry, 43, 855-861. View
Aardema, F., O'Connor, K., Cote, S., & Taillon, A. (2010). Virtual reality induces dissociation and lowers sense of presence in objective reality. Cyberpsychology, Behavior, and Social Networking, 13, 429-435. View
Aardema, F., O'Connor, K., Delorme, M-E., & Audet, J-S (2016). The inference-based approach (IBA) to the treatment of obsessive-compulsive disorder: An open trial across symptom subtypes and treatment resistant cases. Clinical Psychology and Psychotherapy. View
Aardema, F., O'Connor, K. P., & Emmelkamp, P. M. (2006). Inferential Confusion and Obsessive Beliefs in Obsessive-Compulsive Disorder. Cognitive Behaviour Therapy, 35, 138-147. View
Aardema, F., O'Connor, K. P., Emmelkamp, P. M., Marchand, A., & Todorov, C. (2005). Inferential confusion in obsessive-compulsive disorder: the inferential confusion questionnaire. Behaviour Research & Therapy, 43, 293-308. View
Aardema, F., O'Connor, K. P., Pelissier, M.-C., & Lavoie, M. E. (2009). The quantification of doubt in obsessive-compulsive disorder. International Journal of Cognitive Therapy, 2, 188-205. View
Aardema, F., Radomsky, A. S., O'Connor, K. P., & Julien, D. (2008). Inferential confusion, obsessive beliefs and obsessive-compulsive symptoms: A multidimensional investigation of cognitive domains. Clinical Psychology & Psychotherapy, 15, 227-238. View
Aardema, F., Trihey, M., Kleijer, T. M., O'Connor, K., & Emmelkamp, P. M. (2006). Processes of Inference, Schizotypal Thinking, and Obsessive-Compulsive Behavior in a Normal Sample. Psychological Reports, 99, 213-220. View
Aardema, F., & Wu, K. D. (2011). Imaginative, dissociative, and schizotypal processes in obsessive-compulsive symptoms. Journal of Clinical Psychology, 67, 74-81. View
Aardema, F., Wu, K. D., Careau, Y., O'Connor, K., Julien, D., & Dennie, S. (2010). The expanded version of the Inferential Confusion Questionnaire: Further development and validation in clinical and non-clinical samples. Journal of Psychopathology and Behavioral Assessment, 32, 448-462. View
Audet, J-S, Aardema, F., Moulding, R. (2016). Contextual determinants of intrusions and obsessions: The role of ego-dystonicity and the reality of obsessional thoughts. Journal of Obsessive-Compulsive and Related Disorders, 9, 96-106. View
Béland, M., & O'Connor, K. (2014). Evolution of emotions, obsessions, and compulsions in people recovering from obsessional compulsion during inference-based therapy. International Journal of Cognitive Therapy, 7, 29-42. View
Bertrand, A., O'Connor, K., & Bélanger, C. (2014). Évaluation de l'approche basée sur les inférences (ABI) dans le traitement des troubles des conduites alimentaires (TCA) : Deux études de cas [Evaluation of an inferential-based approach for the treatment of eating disorders: Two cases studies]. Revue Francophone de Clinique Comportementale et Cognitive, 19, 44-67. View
Clark, D. A., & O'Connor, K. (2005). Thinking Is Believing: Ego-Dystonic Intrusive Thoughts in Obsessive-Compulsive Disorder. In D. A. Clark (Ed.), Intrusive thoughts in clinical disorders: Theory, research, and treatment (pp. 145-174). New York: Guilford Press. View
Del Borrello, L., & O'Connor, K. (2014). The role of obsessive beliefs and inferential confusion in predicting treatment outcomes for different subtypes of obsessive-compulsive disorder. International Journal of Cognitive Therapy, 7, 43-66. View
Emmelkamp, P. M., & Aardema, A. (1999). Metacognition, specific obsessive–compulsive beliefs and obsessive–compulsive behaviour. Clinical Psychology & Psychotherapy, 6, 139-145. View
Gangemi, A. Mancini, F., & Dar, R. (2015). An experimental re-examination of the inferential confusion hypothesis of obsessive-compulsive doubt. Journal of Behavior Therapy and Experimental Psychiatry, 48, 90-97. View
Goods, N. A., Rees, C. S., Egan, S. J., & Kane, R. T. (2014). The relationship between magical thinking, inferential confusion and obsessive-compulsive symptoms. Cognitive Behaviour Therapy, 43, 342-350. View
Grenier, S., O'Connor, K., & Bélanger, C. (2008). Obsessional beliefs, compulsive behaviours and symptom severity: Their evolution and interrelation over stages of treatment. Clinical Psychology & Psychotherapy, 15, 15-27. View
Grenier, S., O'Connor, K. P., & Bélanger, C. (2010). Belief in the obsessional doubt as a real probability and its relation to other obsessive-compulsive beliefs and to the severity of symptomatology. British Journal of Clinical Psychology, 49, 67-85. View
Grenier, S., O'Connor, K. P., & Bélanger, C. (2006). Surinvestissement des doutes obsessionnels et de leurs conséquences anticipées chez les patients qui souffrent d'un trouble obsessionnel-compulsif (TOC): un portrait sociodémographique et clinique [Overinvestment in obsessional doubts and anticipated consequences in obsessive-compulsive disorder (OCD): Sociodemographic and clinical profiles]. Revue Francophone de Clinique Comportementale et Cognitive, 11, 17-25. View
Guay, S., O'Connor, K. P., Gareau, D., & Todorov, C. (2005). A Single Belief as a Maintaining Factor in a Case of Obsessive-Compulsive Disorder. Journal of Cognitive Psychotherapy, 19, 369-378. View
Irwin, H. J., Dagnall, N., & Drinkwater, K. (2012). Paranormal beliefs and cognitive processes underlying the formation of delusions. Australian Journal of Parapsychology, 12, 107-126. View
Jaeger, T., Moulding, R., Anglim, J., Aardema, F. & Nedeljkovic, M. (2015). The role of fear of self and responsibility in obsessional doubt. Journal of Social and Clinical Psychology, 34, 839-858. View
Julien, D., O'Connor, K. P., & Aardema, F. (2007). Intrusive thoughts, obsessions, and appraisals in obsessive-compulsive disorder: A critical review. Clinical Psychology Review, 27, 366-383. View
Julien, D., O'Connor, K. P., & Aardema, F. (2009). Intrusions related to obsessive-compulsive disorder: A question of content or context? Journal of Clinical Psychology, 65, 709-722. View
Julien, D., O'Connor, K., & Aardema, F. (2016). The inference-based approach to obsessive-compulsive disorder: A systematic review. Journal of Affective Disorders, 202, 187-196. View
Melli, G., Aardema, F., & Moulding, R. Fear of self and unacceptable thoughts in obsessive-compulsive disorder. Clinical Psychology and Psychotherapy. View
Moritz, S., Dietl, C., Kersten, J. F., Aardema, F., & O'Connor, K. (2015). Evaluation of inference-based therapy (doubt therapy) as a self-help tool for obsessive-compulsive disorder. Journal of Cognitive Psychotherapy: An International Quarterly, 29, 315-330. View
Moulding, R., Aardema, F., & O`Connor, K. (2014). Repugnant obsessions: A review of the phenomenology, theoretical models, and treatment of sexual and aggressive obsessional themes in OCD. Journal of Obsessive-Compulsive and Related Disorders, 3, 161-168. View
Nikodijevic, A., Moulding, R., Anglim, J., Aardema, F., & Nedeljkovic, M. (2015). Fear of self, doubt and obsessive compulsive symptoms. Journal of behavior therapy and experimental psychiatry, 49, 164-172. View
O'Connor, K. (2002). Intrusions and inferences in obsessive compulsive disorder. Clinical Psychology & Psychotherapy, 9, 38-46. View
O'Connor, K. (2014). Introduction to the special issue: Behavioral, cognitive, and emotional processes and symptom change during inference-based therapy for obsessional compulsive disorder. International Journal of Cognitive Therapy, 7, 1-5. View
O'Connor, K., & Aardema, F. (2003). Fusion or confusion in obsessive-compulsive disorder? Psychological Reports, 93, 227-232. View
O'Connor, K. P. & Aardema, F. (2007). Editorial: Self-themes in obsessive-compulsive disorder. Journal of Cognitive Psychotherapy, 21, 179-181. View
O'Connor, K. & Aardema, F. (2012). Living in a bubble: Dissociation, relational consciousness and obsessive compulsive disorder. Journal of Consciousness Studies, 19, 216-246. View
O'Connor, K., & Aardema, F. (2012). Clinician's handbook for obsessive compulsive disorder: Inference-based therapy.  Chichester: Wiley-Blackwell. View
O'Connor, K., Aardema, F., Bouthillier, D., Fournier, S., Guay, S., Robillard, S., Pelissier, M.-C., Landry, P., Todorov, C., Tremblay, M., & Pitre, D. (2005). Evaluation of an Inference-Based Approach to Treating Obsessive-Compulsive Disorder. Cognitive Behaviour Therapy, 34, 148-163. View
O'Connor, K., Aardema, F., & Pelissier, M.-C. (2005). Beyond reasonable doubt: Reasoning processes in obsessive-compulsive disorder and related disorders. Chichester: John Wiley & Sons. View
O'Connor, K. P., Aardema, F., Robillard, S., Guay, S., Pélissier, M.-C., Todorov, C., Borgeat, F., Leblanc, V., Grenier, S., & Doucet, P. (2006). Cognitive behaviour therapy and medication in the treatment of obsessive–compulsive disorder. Acta Psychiatrica Scandinavica, 113, 408-419. View
O'Connor, K., Koszegi, N., Aardema, F., van Niekerk, J., & Taillon, A. (2009). An inference-based approach to treating obsessive-compulsive disorders. Cognitive and Behavioral Practice, 16, 420-429. View
O'Connor, K., Koszegi, N., Goulet, G., & Aardema, F. (2013). Distrust of the senses, imagined possibilities, reasoning errors and doubt generation in obsessional-compulsive disorder. Clinical Neuropsychiatry: Journal of Treatment Evaluation, 10, 65-71. View
O'Connor, K., & Robillard, S. (1995). Inference processes in obsessive-compulsive disorder: Some clinical observations. Behaviour Research and Therapy, 33, 887-896. View
O'Connor, K., & Robillard, S. (1999). A cognitive approach to the treatment of primary inferences in obsessive-compulsive disorder. Journal of Cognitive Psychotherapy, 13, 359-375. View
O'Connor, K., Todorov, C., Robillard, S., Borgeat, F., & Brault, M. (1999). Cognitive-behaviour therapy and medication in the treatment of obsessive-compulsive disorder: A controlled study. The Canadian Journal of Psychiatry / La Revue canadienne de psychiatrie, 44, 64-71. View
Paradisis, S.-M., Aardema, F., & Wu, K. D. (2015). Schizotypal, dissociative, and imaginative processes in a clinical OCD sample. Journal of Clinical Psychology, 76, 606-624. View
Pélissier, M.-C., & O'Connor, K. P. (2002). Deductive and inductive reasoning in obsessive-compulsive disorder. British Journal of Clinical Psychology, 41, 15-27. View
Pélissier, M.-C., O'Connor, K. P., & Dupuis, G. (2009). When doubting begins: Exploring inductive reasoning in obsessive-compulsive disorder. Journal of Behavior Therapy and Experimental Psychiatry, 40, 39-49. View
Polman, A., O'Connor, K. P., & Huisman, M. (2011). Dysfunctional belief-based subgroups and inferential confusion in obsessive-compulsive disorder. Personality and Individual Differences, 50, 153-158. View
St-Pierre-Delorme, M.-E., Lalonde, M. P., Perreault, V., Koszegi, N., & O'Connor, K. (2011). Inference-based therapy for compulsive hoarding: A clinical case study. Clinical Case Studies, 10, 291-303. View
Taillon, A., O'Connor, K., Dupuis, G., & Lavoie, M. (2013). Inference-based therapy for body dysmorphic disorder. Clinical Psychology & Psychotherapy, 20, 67-76. View
van Niekerk, J. (2009). Coping with obsessive-compulsive disorder: A step-by-step guide using the latest CBT techniques. Oneworld Publications. View
van Niekerk, J., Brown, G., Aardema, F., & O'Connor, K. (2014). Integration of inference-based therapy and cognitive-behavioral therapy for obsessive-compulsive disorder-A case series. International Journal of Cognitive Therapy, 7, 67-82. View
Visser, H. A., van Megen, H., van Oppen, P., …, van Balkom, A. J. (2015). Inference-based approach versus cognitive behavioral therapy in the treatment of obsessive-compulsive disorder with poor insight: A 24-session randomized controlled trial. Psychotherapy & Psychosomatics, 84, 284-293. View
Wu, K. D., Aardema, F., & O'Connor, K. P. (2009). Inferential confusion, obsessive beliefs, and obsessive-compulsive symptoms: A replication and extension. Journal of Anxiety Disorders, 23, 746-752. View
Yorulmaz, O., Dirik, G., Karaali, O., & Uvez, E. (2010). The psychometric properties of the Inferential Confusion Scale based in Turkish patients with obsessive-compulsive disorder. Turk Psikiyatri Dergisi, 21, 135-142. View